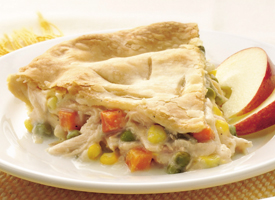 I have never liked pot pie. In general, I am not a fan of Irish-type fare where everything cooks together in a big slurry of mono-flavor. Like I wasn't a big stew fan either, and essentially putting it into a crust did not endear it to me. But in my ongoing theme of learning to love things I never used to even like by making it fresh myself (risotto, sausage-based dishes, and indeed crock pot stew) here we are with a pot pie recipe I really liked!
We ended up not having any guests at our annual traditional Thanksgiving Part Deux, so the traditional 18 lb turkey made for a lot of leftovers for us. We have had turkey omelets and scrambles (Chris would live on eggs if I or his cholesterol count let him), turkey sandwiches, the usual. But I wanted some dinner fare that was yummy and pleasegodnoteggbased (so no quiche thanks).
Pretty quick to prep, and yummy. Most "easy pot pie" recipes called for thawed frozen veggie packs, but we don't tend to keep frozen veggies around much, and prefer fresh anyway. But you could save some prep time by using the prepped veggies instead of chopping fresh. Still others called for pre-made gravy instead of cream of mushroom soup, but I wanted some mushroominess and we were out of mushrooms. Lastly, I wanted to have some potatoes in this, but opted to leave them out as it was looking pretty stacked already, but you could cube up a medium potato like the carrots and celery and throw it in that step.
The result? YUMMY! Chris went back for seconds and thirds and was like to burst. Being a big fan of pot pies, his opinion mattered more than mine, and he was oohing and aahing about it; so, success! Here is the recipe:
1 box Pillsbury pie crust
2 Tbsp butter
1/2 large white onion chopped
3 garlic cloves minced
A handful of flour
1 can of low sodium cream of mushroom soup
1/2 cup water
1/4 cup milk
2ish cups leftover turkey
2 large carrots cubed medium
1 large celery stalk chopped medium
1 cup canned corn
1 tsp each rosemary, thyme*
1/2 tsp cumin
Salt & pepper
(*any savory herbs are great, use to taste. I would have used sage, too, but we were out)
Melt butter in large sautee pan, cook onion and garlic about 4 minutes. Toss in herbs and flour, stir to coat.
Pour in cream of mushroom soup, water, milk, & veggies, blend well and bring to a boil. Keep at low simmering boil stirring fairly frequently 8-10 minutes until veggies soften a little. 5 minutes through, throw in the turkey and salt and pepper to taste.
Heat oven to 425. Roll bottom pie crust into a 9" pie pan. Pour in the turkey mixture (it piles up a little but it fit!), roll top crust over, pinching edge closed. Poke a few fork holes along the top.
Cover edges with foil for 25 minutes, then cook about 15-20 minutes until well browned and bubbly. Let sit 5 minutes before cutting in.